Paper Machine Equipment
JMC Papertech is promoted by group of experienced industrialist and Technocrats with successful track record and reputation. Initially company was involved in heavy fabrication and vessels and later on switched over to machineries for cement industries. Later on company started manufacturing spherical rotary Digester, fabricated drying cylinders and M.S. Yankee Cylinders on demand of paper industries. On the constant demand of these Cylinder, Paper industry encouraged company to start fabrication of other machine pats and with their support and technical know- how from paper mill designers, company successfully started manufacturing complete Plant for making all Type of paper up to capacity of 10 -200 TPD 
Baskets Perforated or Slotted Step Rotor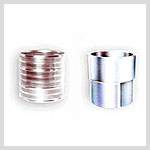 Ask for Price
Salient Features
Suitable for operation with large flat shaped contaminants.
Special design features avoid string formation.
Rotor edges hard faced.
Hole or slot screen basket.
Dynamically balanced rotor.
JMC Low (LC) Consistency Screen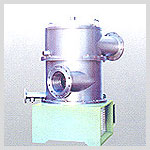 Ask for Price
Salient Features
Vertical screen designed for fine screening of all kind of stock suspensions at low consistency range of 0.4 -1.1 %.
The screens are suitable for stock preparation system and also for approach flow system ahead of paper machine.
The Multivane Aerofoil Rotor design ensures the screen to operate free from pulsation.
Low power consumption.
Exceptional improvement in screening efficiency.
Improve quality of paper.
Dependable paper machine operation.
Basket-hole or slott type
Excellent manufacturing fitness.
| | | | |
| --- | --- | --- | --- |
| Model No. | Hydraulic LPM | Capacity* TPD | Motor Rating: KW |
| JSVL 04 | 2500 | 40 | 15 |
| JSVL 05 | 7000 | 110 | 30 |
| JSVL 08 | 12000 | 160 | 37 |
| JSVLW 04 | 2000 | | |
* Depending on stock, grade, consistency and screen perforation / screen slot application
J-JMC
S-Screen
V-Vertical
M- Medium Consistency
W- Washing Cycle
Present manufacturing range other models are under development.
Baskets Perforated or Slotted Foil Rotor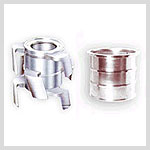 Ask for Price
Salient Features
Multi vane aerofoil rotor.
Pulsation frees rotor design.
Special rotor design avoids string formation.
Gentle screening.
For low consistency hole or slot basket
Dynamically balanced rotor.
Centricleaners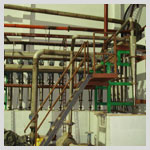 Ask for Price
Salient Features
Effective removal of Sand, unbeaten paper chips hard Cooked fibers and other no fibrous heavy materials
Low fiber rejection
Low Pressure drop
Fabricated from SS 304 and 316 Material
Intel Tapered Headers with pulp valve in SS construction
Available in 500 and 1000 LPM throughput
Fibber recovery arrangement in Last Stage
Stock Chest Agitators (AG)

Ask for Price
Energy efficient agitators find application in all type of Pulp storage chests, including Hight Density Towers, Mixing Chest & Machine Chest.
The sturdy design incorporate Bearings & Glands. Located outside, optimally designed adjustable propeller blades. All parts coming in contact with stock made of stainless Steel, the agitators are highly energy efficient and have the provision for adjusting the vane angle to suit specific process requirement of gentle or strong agitation.
Salient Features
Agitator Size
Horizontal Chest
Vertical Chest
Volume (M3)
Motor Rating (kW)
Volume (M3)
Motor Rating (kW)
Vane Dia (mm)
AG 50/60
25-100
11-15
7-15
5.5-7.5
500/600
AG 75/85
100-275
15-22
20-40
11-15
750/850
AG 100/115
275-500
30-37
45-80
18.5-22
1000/1150
AG 135/155
500-700
55
85-155
30-37
1350/1550
AG 170
700-850
75
155-200
45
1700
Stock Thickener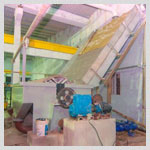 Ask for Price
Salient Features
Decker Thickener compressing of CI/SS Moulds and MS/ SS Vat, are best suited for removal of excess water from stock
Sizes vary from 2.00 mtrs to 3.00 mtrs depending upon the process capacity
Input Consistency 1% out put consistency of 4%
Minimum fiber loss due to modified cum washing purpose
Constructed in SS 304 and SS 316 Material
Driven with Variable Speed drive for setting the drainage of different of stock
De-Inking Cell

Ask for Price
The purpose of de- inking is to remove the printing inks, stickies that might effect the paper making process. In a de-inking process ink is detached from fiber. Flotation technology provides high yield of fibers and simple handling with maximum operating reliability.
Principle of Operation
The JMC De- inking cell consists of number of cells in series with elliptical cross section with a baffle extending over the entire length to separate suspension chamber from the foam collecting chamber. Air (at the atmospheric pressure) and pulp stock is introduced into the cell through injectors. Flow through nozzles generates vacuum which generators micro turbulence resulting in widely ranging bubble sizes enabling efficient removal of ink of particles. The enhances brightness to a high degree and reduces dirt specks and stickies. The injectors optimize the quantity of the air injected and the size of the bubbles generated.
The pulp stock freed ink is pumped from the bottom of one cell to the next cell. The ink laden foam overflows to the foam chamber with the help of motorized paddle. Flotation process is operated in a continuous mode and helps to remove ink particles efficiency. Since the cells are interconnected level is controlled through level transmitter on entire flotation machine.
The primary floatation stage ensures highest possible stock purity and the secondary stage optimize yield. A Dearator cyclone removes air from the stock and usable fibers are recovered from the foam.
Salient Features
No sizing restrictions
Single level control loop operation
Optimized flotation yield at secondary stage without loss of brightness and cleanliness.
Very low fiber loss in the de-inking process as the foam is treated in a cascade process.
Optimize floatation yield at secondary stage without loss of birghtness and cleanliness.
Exceptional improvement in screening efficiency.
Improve quality of paper
Dependable paper machine operation
Basket - hole or slott type
Excellent manufacturing fitness